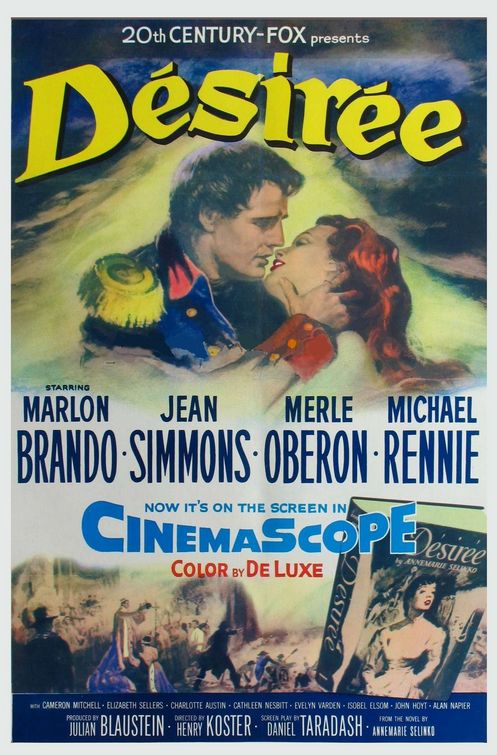 Saturday, April 21, 2012
DESIREE: Blu-ray (2oth Century-Fox 1954) Twilight Time
Marlon Brando's star was firmly on the ascendance when he was cast as Napoleon Bonaparte in Henry Koster's Desiree(1954); a largely fictionalized, lavishly produced spectacle in color by DeLuxe and Cinemascope. Brando had made a smashing success of his film debut, playing an emotionally/physically scarred veteran inThe Men (1950), and had then compounded his appeal at the box office by recreating Broadway brute, Stanley Kowalski for Elia Kazan's film version of A Streetcar Named Desire the following year. Despite being branded 'the great mumbler' by the critics, Brando's persona – both on stage and on screen - was larger than life and never anything less than hypnotically compelling. One problem: the actor knew it.
As such Brando's ego would increasingly wreak havoc on his subsequent film career. These 'difficulties' with reigning Brando in, arguably became obvious first on the set ofDesiree – a project the actor begrudgingly accepted after agreeing to a two picture deal at 20th Century-Fox; then reneging on his commitment to star in The Egyptianafter taking a most immediately dislike to co-star, Bella Darvi. The Fox lawsuit against Brando was effectively dropped only after he agreed to Desiree. However, that did not stop the actor from 'requesting' changes to both the script and production every step of the way.
Desiree is based on a semi-biographical novel by Annemarie Selinko, revolving around a romantic détente between Napoleon (Brando) and a young girl, Desiree Clary (Jean Simmons). Set in 1794 Marseille, Daniel Taradash's screenplay attempts to boil down the novel's rather lengthy romance into 110 minutes of fluff, ably augmented by Milton R. Krasner's lush cinematography.
Spirited and headstrong, Desiree returns home one windswept night to find the rest of her family already at dinner; mother (Isobel Elsom), brother, Etienne (Richard Deacon) and sister, Julie (Elizabeth Sellars). She tells them all she has just met a Corsican, Joseph Bonaparte (Cameron Mitchell) in the street, has told him all about Julie's beauty, and furthermore, has invited the young man to visit them the following night. Naturally, Desiree's brazenness leaves the family agog. But to refuse an invitation after it has already been given would be rude, and so the Clary's reluctantly agree to entertain Joseph and his brother, Napoleon.
Napoleon is an egotistical General, full of passionate ideas about military campaigns that will conquer the Italians and the English. He quickly dispatches with the niceties during his brief conversation with the Clarys before encouraging Desiree to show him their gardens. Joseph and Julie become immediately smitten with one another and Napoleon is frank with Desiree about his romantic interests towards her. Perhaps they have more to do with her potential dowry, but that does not stop Desiree her sustained liking of Napoleon, even after some initial apprehensions.
Regrettably, Napoleon is arrested by the Army under suspicion for treason. His incarceration does not last very long, however, and soon he is reinstated as the First Consul of the French Republic, ordered to pursue royalists in Paris. Desiree pleads for him to renounce his commission in the army and remain with her in Marseille. But Napoleon refuses, proposes marriage, and then asks Desiree to loan him money to go to Paris. He promises he will return to her with all speed. As the weeks turn into months, Desiree doubts Napoleon's intensions and with good reason.
Travelling to the city to investigate his whereabouts for herself, Desiree finagles an invitation to a house party through her chance meeting with Gen. Jean-Baptiste Bernadotte (Michael Rennie). There, she discovers to her ever-lasting chagrin that Napoleon is betrothed in marriage to the exceptionally wealthy Josephine de Beauharnais (Merle Oberon). Jean is captivated by Desiree's strange and intoxicating blend of fire and compassion and pursues her romantically for himself.
The narrative leaps ahead – ever so briefly - to 1797. Napoleon has conquered Italy where Desiree currently resides with Julie and her husband, Joseph. She is bored, however, and returns to France where another chance meeting with Jean results in a proposal of marriage.
We jump ahead another two years. Desiree and Jean are happily married with a son, Oskar (Nicholas Koster). Jean is asked by, and joins, Napoleon's council of state. Several more years pass and Napoleon is proclaimed Emperor of France. But during his coronation he removes the crown from Pope Pius VII's hands and crowns himself, suggesting that the future influence of the church on the state will not be a harmonious one. Curiously, the film never delves into the tenuousness of this relationship beyond this brief scene; an obvious and very literal recreation of Jacques Louis-David's celebrated portrait of the real event.
Now, five more years pass. Napoleon divorces Josephine after it becomes quite apparent that she is unable to give him an heir. Foreshadowing the future malaise that will envelope Napoleon's kingdom, Josephine calls Desiree to her bedchamber. The exiled queen makes Desiree promise that she will remain near and faithful to Napoleon. Afterward, Napoleon and Desiree are reunited in the darkened corridor just beyond, where he commands her to teach him to waltz – a skill he lacks, but one necessary for his pending marriage to eighteen year old, Marie Louis of Austria (Violet Rensing).
The years roll on. Napoleon's thirst for conquest goes unquenched. He involves France in one war after the next – each campaign more successful than its predecessor. Jean is approached by representatives of the King of Sweden who plans to make him the heir to his throne. Much to Napoleon's dismay, Jean renounces his French citizenship and he and Desiree depart for Stockholm.
Regrettably, the crown is an ill fit for the pert Desiree, who – after eighteen months of suffering insults and indignations from the rest of the royals - informs her husband that she intends to return to France. Once in Paris, Desiree attends a lavish ball on New Year's Eve with Julie and Joseph. Napoleon arrives with Marie Louis to show off their infant son. Later, he confronts Desiree with veiled threats against her family if Jean persists in forming an alliance with Russia.
However, this Swedish/Russian alliance proves lethal for Napoleon's armies. Crushed in battle against them, Napoleon asks Desiree to write a letter to Jean, requesting his help. Instead, Jean destroys the last remnants of the French army and Desiree returns to Sweden to stand at her husband's side. Exiled at Elba, Napoleon briefly resurrects his prospects for a return to the throne before his forces are utterly decimated at the Battle of Waterloo.
He retreats to the Chateau de Malmaison where representatives from the Allied Army send Desiree to plead for his surrender. Despite the years, fates and circumstances that have divided them, there is still a spark of romance between Desiree and Napoleon, who finally abdicates, offering Desiree his sword in surrender. The film ends on a sombre note with Napoleon suggesting to Desiree that her dowry was not the only reason he professed marriage to her so many years ago.
Desiree is uneven entertainment at best. Brando is superb as 'the little General' – a startling character assimilation, strangely realized with a clipped British accent and nose piece designed by makeup artist, Bill Nye. Brando is Napoleon; his every nuance evoking a flesh and blood impression of the man only known to our modern world through still images and paintings.
So too, does Jean Simmons infuse our heroine, Desiree with a soft and appealing patina of womanly grace. This seems naturally, and believably, to evolve and mature as the film progresses.
The rest of the cast are really just window dressing for these two stars. Merle Oberon and Michael Rennie are elegant mannequins who adorn their scenes convincingly, but are given precious little to do.
Thanks to Leland Fuller and Lyle Wheeler's art direction, and, Rene Hubert and Charles Le Marie's costume design, at least visually there is a lot to admire. We get high style plus and a fairly convincing re-constitution of 16
th
century France built, and/or redressed, using free standing sets on the Fox backlot, as well as clever integrations of matte paintings and stock footage long shots of the real thing.
Regrettably, Daniel Taradash's screenplay is a clumsily convolution, glossing over important elements – not merely plot points in Selinko's novel – but also historical events that are given embarrassingly short shrift in the film. The leap from Desiree and Napoleon's initial romance in Marseille to his coronation as Emperor – a span of some fifteen years - takes about twenty minutes of screen time to unfurl. That's barely a minute and a half per year! Linking the story together through various entries excised from Desiree's diary results in a meandering series of vignettes that are loosely strung together. What we have then is not a narrative film, per say, but a series of coming attractions for a more in-depth movie that will never come.
Despite these shortcomings, Desiree was Fox's biggest money maker of 1954 afterThree Coins in the Fountain, solidifying – at least in Darryl F. Zanuck's mind – that the expansive proportions of the Cinemascope screen could conquer and eclipse even the flimsiest storytelling. For a while, the public was indeed spellbound by this elongated screen, and Desiree benefits greatly from Milton Krasner's lush cinematography, as well as Alex North's vibrant underscoring. The two are a perfect compliment.
Twilight Time's Limited Edition Blu-ray is, in a word, sumptuous. The 1080p transfer exhibits bold colors, vibrant and exceptionally crisp detail, and a very solid rendering of contrast levels. The image pops with impressive clarity. Transitions between scenes are briefly grainy, as was a shortcoming of early Cinemascope. But film grain throughout has been faithfully reproduced for a very film like presentation and age related artefacts are virtually nonexistent. Better still, the new DTS 5.1 audio captivates with all the sonic bombast of vintage 6 channel, directionalized stereo. Truly, there is nothing to complain about here!
Extras are limited to an isolated score and a theatrical that has not worn well. Bottom line: if you're a fan of the film, then this 1080p disc comes very highly recommended!
FILM RATING (out of 5 - 5 being the best)
3
VIDEO/AUDIO
4
EXTRAS
1