(
Joséphine Maximilienne Eugénie Napoléone
) (14 March 1807 – 7 June 1876) was
Queen consort
of Sweden and Norway as the wife of King
Oscar I
. She was known as
Queen Josefina
, and was regarded as a politically active consort.
Background
Born in
Milan
,
Italy
, she was a daughter of
Eugène de Beauharnais
, the first Duke of Leuchtenberg, and his wife,
Princess Augusta of Bavaria
. Her paternal grandmother and namesake was
Joséphine Tascher de La Pagerie
, the first wife of
Emperor Napoléon I of France
.
At birth she was given the title Princess of
Bologna
by Napoléon, and later she was also made
Duchess of Galliera
.
Princess Joséphine married Oscar I by proxy at the Leuchtenberg Palace in
Munich
on 22 May 1823. They also conducted a wedding ceremony in person on 19 June in
Stockholm
. Through her mother (her maternal line of Hesse and upward through Hanau and Ansbach, Baden-Durlach and Kleeburg), Joséphine was a descendant of
Gustav I of Sweden
and
Charles IX of Sweden
, thus also making her children descendants of Gustav Vasa, etc. Through her maternal grandfather, she was also one of the descendants of
Renata of Lorraine
, granddaughter of
Christian II of Denmark
.
Crown Princess
Six days after her arrival in Sweden, her middle name Napoléonne was removed. This was because Sweden had fought against Bonaparte in the recent war. She had brought with her several pieces of exclusive jewellery made in Paris for her paternal grandmother, which are still among the possessions of the Royal Houses of Sweden and Norway (via Queen Louise of Denmark, née Princess of Sweden and Norway and also via Crown Princess Märtha of Norway, née Princess of Sweden and Norway). In Sweden, she was known by the Swedish version of her name:
Josefina
.
Joséphine was interested in gardening, enjoyed painting, and was involved in charity and reforms in Sweden. Her interest in art was active and genuine; she greatly supported the career of the painter
Sofia Adlersparre
, tried to do the same for the sculptor
Helena Sophia Isberg
, and also encouraged the artistic interest and talent of her own daughter,
Princess Eugénie
, who became a talented amateur-artist. she was also involved in a several social projects; at her arrival in Sweden, she became friends with Princess Sophia Albertine of Sweden, who introduced her to this work.
In 1824, the crown prince-couple visited Norway and stayed in
Oslo
, where they engaged in much representation to make the monarchy popular. Already as a crown princess, she was involved in politics as a mediator between her husband and her father-in-law.
Although she was a devout Catholic, she agreed to raise her children in the Lutheran religion. She brought a Catholic priest, and regularly attended mass and confession in her private Catholic chapel. The Pope had given his consent to this. The Lutheran clergy was against the match - queen
Désirée Clary
was Catholic, but she lived abroad - but the king had his will. Oscar and Josephine had five children, of which two were to become kings of Sweden and Norway.
Her marriage was at the beginning a happy one, unusually so for a royal match, as they shared an interest in culture and had a similar personality, and her husband's unfaithfulness was successfully hidden from her. After she discovered her husband's adultery, however, she was deeply wounded and never really felt happy again. In 1832, she wrote in her diary of her bitterness that a woman was expected to endure a husband's unfaithfulness;
A woman should suffer in silence
. Her husband's affair with the famed actress
Emilie Högquist
was well known. In 1835, Josefina and her husband experienced a nine years long separation in their relationship, though this was not official, and they continued to appear together in public. The relationship with her husband was repaired when he ascended to the throne (in 1844), and as a king, he was faithful and they had again a good relationship.
In her charity, Josefina, though deeply religious, did not believe that it was the task of religion, but of the state, to provide welfare, and she did not mix the two. She was, however, also active as a Catholic; in 1837, she had a church built for the Catholic congregation of Stockholm, the first one since the reformation, and she also founded Catholic churches in
Gothenburg
and Oslo.
Queen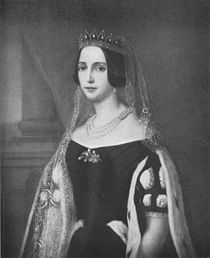 In 1844, Josephine became Queen of Sweden and Norway at the accession of her spouse. She was crowned in Sweden 28 September 1844, but not in Norway. In Norway, there was opposition to the coronation of a Catholic; the official reason was that the ceremony was unnecessary, as the queen had no position in the Norwegian constitution.
Josephine was very popular both within the court and with the public from the moment she arrived as crown-princess, and she was more popular as queen than both her predecessor and her successor. She was a success both socially and as a queen consort, and though she remained a devout Catholic, this did not lessen her popularity. She played a great part in making the new dynasty popular in Sweden. She was described as charming, beautiful and with great dignity.
Her closest companions were
Bertha Zück
, who was responsible for her economy, and her Catholic
chaplain
and confessor J.L. Studach (d.1873) ; both followed her from Bavaria, and they were called
the trio
.
The amount of her political influence during her husband's reign is debated. She was pointed out to have acted as her husband's advisor and for having exerted large influence in several matters; in 1848, she tried to prevent the First Schleswig War, in 1855, she was rumoured to be responsible for the treaty between Sweden, Norway, France and Great Britain, and in 1860, she was, according to the rumours, the active force between the new law of freedom of religion; the old version of this law allowed different religious beliefs only if you were born in it; it did not allow for conversion from the Lutheran Faith. She is thought to be the instigator to the laws of equal inheritance for men and women (1845), reforms in the prison and social care and the abolition of the guilds. It is confirmed, that when a crisis occurred, the king and the queen withdrew in private to discuss the matter before the king made a decision. In 1857, her husband became ill; she tried to conceal his condition, and was against her son's appointment as a regent, as he did not wish to allow her any political influence. They showed themselves to the city in a carriage, were the king waved to the public, but Josephine was in fact forced to support and move his hand.
She mourned when
Napoleon III of France
was dethroned in 1870. In 1873, she visited her sister Amalie in Portugal. The same year, she was moved when she received the public's adoration during the celebration of her fifty years in Sweden. In 1875, she visited the
Pope Pius IX
in Rome.
Josephine died in
Stockholm
in 1876 at the age of sixty-nine and received a Catholic burial. Her last words were "I am going home now. I am very happy."
Family and issue
Her children were:
She founded Josefina hemmet (for nursing of poor and handicapped in the catholic church), the institution for nursing of the 'defenseless and fallen', the institution for education of women and the society for 'tender and moral maternity wellfare'