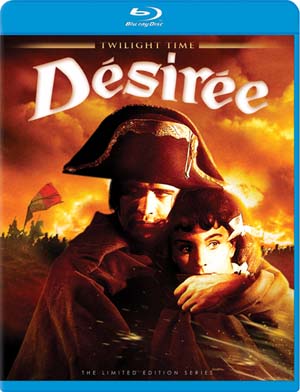 By Lee Pfeiffer
Released in 1954 at the height of Marlon Brando's popularity, Desiree has the dubious distinction of being one of his least-remembered films, possibly because it was eclipsed by Kazan's On the Waterfront, released the same year. Desiree was a prestigious Fox production based on a romance novel that apparently had been so much the rage during this time that it was marketed as rivaling Gone With the Wind. The film version purports to explore the romantic relationship between Napoleon Bonaparte (Brando) and Desiree Clary (Jean Simmons), a young French girl of humble background who is employed in a shop owned by her family. When we first meet young Napoleon, he is on skids, his career and life threatened by the madness and paranoia that engulfed France in the aftermath of the Revolution. Still, he perseveres and survives the threats. He enters a playful romance with Desiree and even proposes to her. However, as his fame and power escalates, his opportunistic side shows through when he simultaneously proposes to Josephine (Merle Oberon), a high society type who Napoleon feels can help advance his ambitions. Although the film is somewhat frank for its day (there are thinly veiled references to sex and the lack of virgins in Paris), the scorned Desiree keeps her own virginity intact and marries one of France's top generals, Bernadotte (Michael Rennie). In this absurdly abridged version of tumultuous French history, Napoleon seems to become emperor and dictator virtually overnight. He and Desiree still clearly love one another but she remains loyal to her less-flashy, but more sincere husband. Crude attempts by Napoleon to seduce her inevitably fail (which waters down the steamy romance considerably), but he retains a respect for her even when she and Bernadotte become opposed to his quest for world conquest. In the film's climactic sequence, Napoleon's world has been reduced to the city of Paris where he intends to lead a quixotic, bloody battle against his encroaching enemies. Desiree makes a dramatic visit to him and, after a few choice words and admonishments, convinces the former emperor to go quietly into exile on St. Helena. Such absurdities might make you suspect that the film is one of those "so bad it's good" productions. In fact, Desiree is too good to be considered a guilty pleasure, but too unimpressive to merit status as a "must see" movie.
There is a particular challenge for actors who choose to play certain historical figures. Napoleon, like Adolf Hitler, has been satirized so consistently that a false step can turn a performance into an unintentionally amusing misfire. One of the most impressive elements of this movie is Brando's remarkably subdued portrayal of the French emperor. It's very much a supporting role compared to that of Jean Simmons, but unsurprisingly, Brando dominates every scene he is in. We never get to know the inner Bonaparte because the story views him only from the perspective of Desiree. However, the Brando cynicism and wit come through consistently. The temperamental actor got the role by default. He broke his contract to star in The Egyptian for Fox and, presumably to avoid being sued, accepted the part in Desiree to fulfill his obligation to the studio. The real star of the movie is Simmons, but her performance is undermined by script and direction that makes the character of Desiree act as though she is a contemporary young woman of the 20th century. She pouts, she giggles, she pines away for her estranged would-be lover. When Desiree discovers that Napoleon is, in fact, engaged to Josephine, her reaction is that of Annette Funicello discovering that Frankie Avalon has been canoodling with some surfer chick in a B beach movie of the 1960s. There are more impressive performances from always reliable Michael Rennie and Merle Oberon, as the strangely sympathetic Josephine, who becomes tossed on the dust heap of history because she cannot bear Napoleon a male heir. Alan Napier makes an amusing appearance as a fey choreographer of a royal wedding who is being driven to the point of insanity by Napoleon's vain, insufferable sisters.
Fox's insistence that director Henry Koster utilize the new CinemaScope process was a mistake. Although it affords Koster the opportunity to present some grand ball room sequences in impressive widescreen format, this is, overall, a claustrophobic tale with virtually no exteriors. (There is some fleeting second unit footage shot in France, but it all too apparent that the nearest the principals got to Parisian locations was lunch at a French restaurant in Beverly Hills.) The film has grandeur but no sweep and boasts some of the phoniest looking sets and matte paintings ever seen in a major studio film of the era. Alex North's sweeping romantic score is a saving grace, but the real pleasure of the film is the periodic appearances of Brando in an offbeat performance. Brando was said to loathe the film and his performance, but he presents Napoleon in a quirky, amusing way as a man of acerbic, cynical wit. For all its faults,Desiree is never dull or uninteresting.
Twilight Time has released a stunning Blu-ray edition (3,000 units) of the film that is beautiful to behold, phony sets and all. The extras include the original theatrical trailer and an informative collector's booklet with liner notes by Julie Kirgo, that are, as usual, highly readable. For example, I always thought the movie was a boxoffice bomb, but Kirgo provides evidence that it was actually considered a major financial success, easily eclipsing grosses for On the Waterfront. Brando fans will certainly want to add this flawed, but worthy curiosity to their movie libraries.