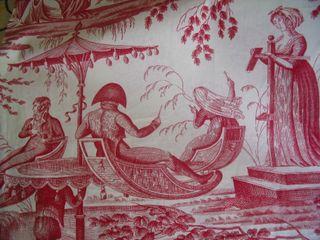 En français ou en anglais , je n'ai pas besoin de parler ..les toiles de jouy parlent toutes seules.
Ces collections sont disponibles dans notre show room avec beaucoup d'autres échantillons aussi
In french or english, I don't need to talk . Toiles of jouy talk for themselves.
Sevres Etrustcan Breast Cups, flesh colored porcelain with pink nipple and made for drinking milk. Ordered for the Laiterie, a fanciful neoclassical dairy at Chateau Rambouillet purchased by Louis XVI for Marie Antoinette in June 1787.
Petits appartements, Chateau de Chantilly, Oise, France. Petite singerie: "Small Monkeys Room" by Christophe Huet Singerie is the French word for "Monkey Trick". It is a genre depicting monkeys apeing human behavior, often fashionably attired, intended as a diverting sight, always with a gentle cast of mild satire.
~Le Reveillon ~ A reproduction of the Montgolfier Brothers' balloon. The original was the first manned balloon ever flown, in 1783 from Paris in France ~*
The Marie-Antoinette Blue Diamond: 5.64 carat blue heart shaped diamond which the queen had set in a ring. The queen gave the ring to her close friend Princess Lobomirska, shortly before her trail in 1791. After the Polish princess died her estate was passed to her four daughters. The diamond became the property of Count Wladimir Potocki through his marriage to one of the daughters. It belongs to a private collector in Europe and is not on display to the public.