born Marie-Guillemine de Laville-Leroux
[French Painter, 1768-1826]Marie-Guillemine Benoist (1768-1826): Marie-Guillemine Benoist was the daughter of a government official. She studied with Vigee-Lebrun and her earlier works show a distinct influence of her famous teacher. Benoist later studied with the celebrated Jacques-Louis David and her later works reflect the Neo-Classical style.During her lifetime, Benoist painted in several genres ranging from historical themes to family portraiture.Her works also included subjects that touched upon the contemporary issues of her day:herPortrait of a Negress, painted in 1800,for instance, was inspired by the decree to abolish slavery.Benoist was commissioned by Napolean to paint his portrait as well as portraits of his family members.
References: Women Artists: An Illustrated History by Nancy G. Heller, pp.63-64.
Marie Guilhelmine Benoist (1768 – 1826) painted this portrait of Napoleon in 1809. She also painted portraits of Napoleon's sisters Pauline and Elisa, as well as his second wife, Marie Louise.
Pauline Borghese
Empress Marie-Louise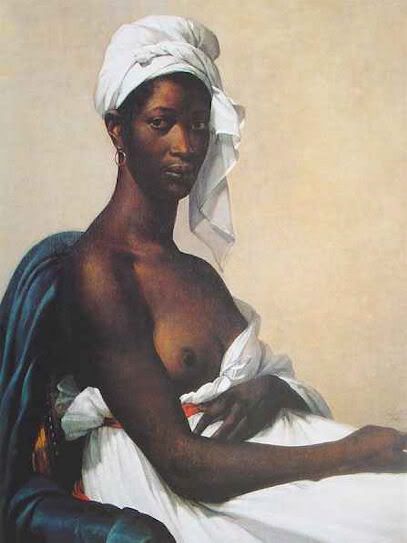 Portrait of a black woman
(1800) is a very special painting. It is one of the first portraits of real existing african person in western art.
Marie-Guillemine Benoist (self-portrait)